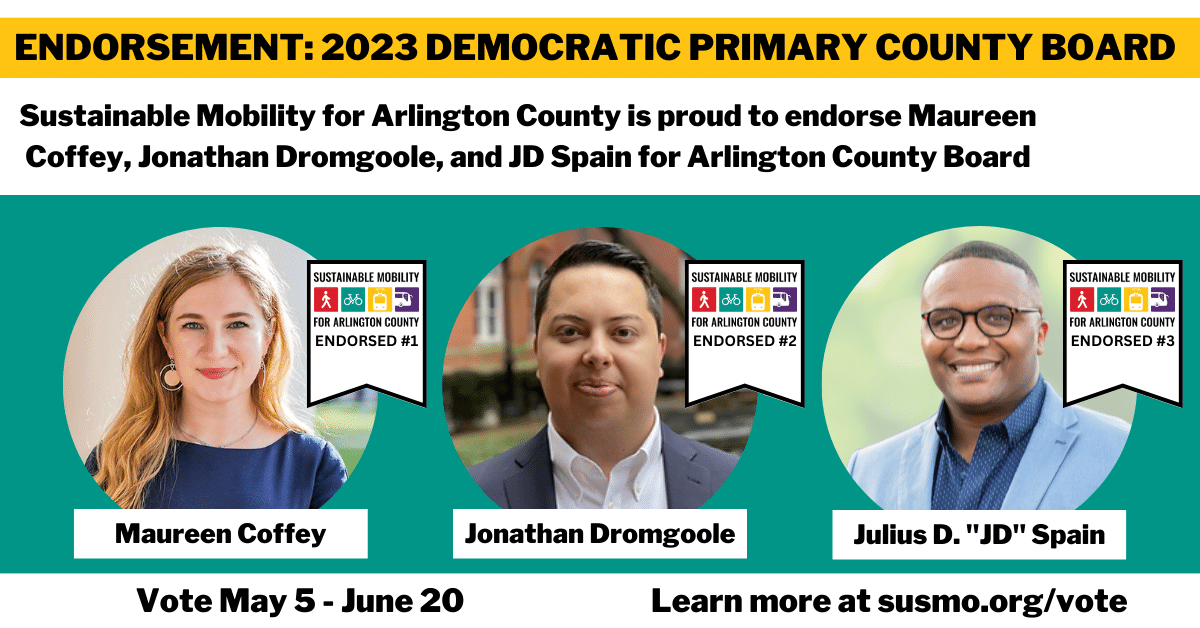 Level of Effort: Choose Your Own Adventure
Deadline: Tue 6/20/2023 7pm
Sustainable Mobility for Arlington County is endorsing Maureen Coffey for your first ranked vote, Jonathan Dromgoole second, and Julius D. "JD" Spain for your third ranked vote in the June 20, 2023, election for the Democratic nomination for Arlington County Board (Ranked Choice Voting is being used for this primary - you get to rank up to three candidates in priority order, for two open seats).
We appreciate the responses to our questionnaire from all six candidates. While all responses showed some support for sustainable mobility, the responses from Maureen, Jonathan, and JD show a deeper understanding of the issues and, particularly from Maureen and Jonathan, a willingness to be champions for sustainable transportation while on the Arlington County Board. Wanting to acknowledge the strong responses across the field and that Arlington is not a single-issue electorate, we have sequenced the complete field based on their questionnaire responses, past actions, and public statements on their website and in various candidate forums.
We require candidates to fill out our questionnaire to be considered for an endorsement. Following their submissions, our Board of Directors examines the candidates' questionnaire answers, public statements, and actions, and makes an endorsement decision that they believe will advance Sustainable Mobility for Arlington County's policy goals.
Why Maureen Coffey?
Maureen understands issues related to sustainable mobility, in part because she uses it - she primarily walks and uses public transit to get around - and she understands what is needed to get people to use more sustainable transportation (particularly transit): reliability and convenience.
Maureen demonstrates an understanding of the importance of a complete, sustainable transportation network, a strong grasp of how the County government works, and a commitment to make the tradeoffs necessary to prioritize safety and sustainablity in our transportation network.
We would look forward to partnering with Maureen as a champion of sustainable transportation across the county.
Why Jonathan Dromgoole?
Jonathan has a strong understanding of the current state of sustainable mobility around Arlington - in part because he uses it - and shows an adept understanding of the areas that need addressing across the county.
His answers demonstrate his willingness to get into the details affecting community members at the margins from bus infrastructure to the safety of pedestrians across the county.
We would look forward to partnering with Jonathan as a champion of sustainable transportation across the county.
Why JD Spain?
JD brings a wealth of experience to the position; he understands the tradeoffs necessary to navigate us toward the sustainable transportation system that Arlington needs to move forward.
While his responses do not contain the same vision and detail as the two candidates above, JD has demonstrated the willingness to partner and strongly support the initiatives that touch transit across the county.
We would look forward to partnering with JD on sustainable transportation and have hopes that he would be a champion or at least a strong supporter.
Why Not Susan Cunningham?
Susan shows some understanding of the importance of sustainable transportation and the issues with the current system - she sometimes uses sustainable transportation to get around. We particularly appreciate her understanding of the value of transit for students.
However, her answers to our questionnaire make clear that she does not have an understanding of sustainable transportation as a system. For example, on tradeoffs, Susan stated that she would "prioritize sidewalks over bike lanes on major arteries if they are bus routes," and instead would support "a nearby bike-safe route", without recognizing that, on arteries without safe bike infrastructure, people bike on the sidewalk, making the sidewalk worse for people walking.
We expect that Susan would be a supporter, but not a champion for sustainable transportation.
Why Not Tony Weaver?
Tony shows some understanding of sustainable transportation issues - he gets around by scooter. We particularly appreciate his whole-hearted support for trails.
Ultimately, Tony's views for sustainable transportation in Arlington are in the right direction but are light on details and fall short of being a champion when it comes to the hard choices.  His support for reallocating road space only in "certain situations" is especially weak.
We expect that Tony would be a supporter, but not a champion for sustainable transportation.
Why Not Natalie Roy?
While Natalie bikes for transportation often, her answers to our questionnaire demonstrated that she would not be willing to push forward with building the infrastructure or providing the service necessary for sustainable transportation when there are trade-offs. Many of her answers hedged their support for sustainable transportation.
Natalie also demonstrated a gap in understanding of County processes and how transportation projects are planned, funded, and executed in the County which makes us doubt her future effectiveness.
We are encouraged by Natalie's embrace and marketing of a multi-modal lifestyle in Arlington but do not feel that she has the knowledge and vision to get Arlington to the next step in sustainable transit.
In Conclusion
In this County Board Primary Election, we believe the best action you can take is to rank Maureen Coffey,  Jonathan Dromgoole, and Julius D. "JD" Spain first, second and third, respectively. 
Most importantly, make a plan to vote! You can vote by mail (request by June 9!), at in-person early voting, or at your normal voting precinct on June 20th between 6am and 7pm. If you vote in person, you have to bring an ID. You have to register to vote by May 30, but if you vote early before then, you can register when you go to vote. You can learn more about ranked-choice voting here.